Rutuja Chavan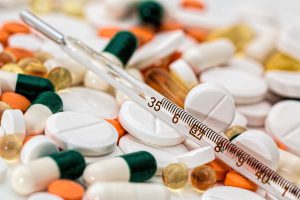 Update on the Indian Equity Market:
On Tuesday, NIFTY closed in the red at 16,854 (-0.5%), dragged by KOTAKBANK (-3.5%), SUNPHARMA (-2.6%), and HDFC (-1.8%). Some of the gainers were ONGC (+5.2%), NTPC (+4.4%), and M&M (+3.4%).
Among the sectoral indices, REALTY (+2%), MEDIA (+1.5%), and METAL (+1.3%) led the gainers, and NIFTY PSU BANK (-1%), NIFTY BANK (-1.0%) and NIFTY FINANCIAL SERVICES (-0.9%) led the losers.
Excerpts of an interview with Mr. Sudhir Menon, CFO & ED, Torrent Pharma (TORRENT) with CNBCTV18 on 27th May 2022:
In 4QFY22, TORRENT reported an EBITDA margin of 26.3% as compared to 25.5% in 3QFY22. 3QFY22 was impacted on account of higher than expected price erosion in the US. TORRENT believes that the worst has already happened for the US.
IN FY23, TORRENT expects certain margin levers to play out. A few of these levers could be the price increase-driven margin improvement in the Branded Business which contributes 70% of overall revenues as of 4QFY22.
Certain cost optimization measures were undertaken in 4QFY22 by realigning capacities between its facilities in India which are expected to come through from 1QFY23.
Cash burn impact of 1-1.5% on the liquid facility which was discontinued in the US is expected to roll back into the margins.
There was an impact of increased freight expenses on the margins of 1.2-1.3% in 3QFY22 which continued in 4QFY22. TORRENT expects these costs to normalize over the next 2-3 quarters of FY23.
Overall, revenue growth in FY23 is expected to be better than FY22 and that would enable TORRENT to have operating leverage play out positively in the near term. TORRENT has guided for 300 bps margin improvement in FY23.
Acquisition of Dr. Reddy's Laboratories' 4 brands would help fill up the portfolio gap in gynecology and urology. As per AIOCD (All Indian Origin Chemists & Distributors) data set, the 4 brands combined had a revenue of Rs 450-500 mn.
India business registered 15% revenue growth in FY22 and most of the existing therapies TORRENT has outperformed the market.
TORRENT is growing at 2x of the market growth in therapies like GI (Gastro-Intestinal), CNS (Central Nervous System), and Anti-Diabetics and this is expected to continue.
It expects the Indian market to deliver low double-digit growth over the next two years and TORRENT is expected to grow 200 bps above the market as per its historical trend as it is over-indexed in some of the high growth markets.
One of the objectives TORRENT had taken was to achieve the 10 lakh MR (Medical Representatives) productivity in FY22. Now that it has achieved this productivity, TORRENT has been expanding its field force which is expected to bring in incremental revenue growth.
The new product pipeline is looking good for the next few years and TORRENT is seeing some of the large-size markets going off-patent in the coming years. With the incremental growth coming in the future, TORRENT believes it is well-placed to achieve double-digit growth for India Business.
The US story has not been playing out well for TORRENT because of the new launches not coming through due to pending US FDA inspections.
TORRENT has around 57 ANDA pending approvals. In the next 2-3 months if the US FDA reinspection takes place, TORRENT expects new products to start coming in from 4QFY23.
Asset Multiplier Comments  
The growth trajectory in TORRENT's India branded generics business is expected to continue, due to new product launches in the upcoming quarters.
We expect a revival in tender business and new launches to drive growth in the Germany Business. Brazil is expected to continue its momentum in both the branded and generic segments.
With the worst of price erosion in the US business over, an improvement is expected with the resumption of USFDA inspections.
We expect cost-optimization measures, normalization in freight expenses, and closure of the Pennsylvania (US) facility to aid margin expansion in FY23.
Consensus Estimates: (Source: market screener website)
The closing price of TORRENT was ₹ 2,835 /- as of 31-May-2022.  It traded at 34x/27x the consensus earnings estimate of ₹ 84/ 106/- for FY23E/FY24E respectively.
The consensus target price of ₹ 3,194/- implies a P/E Multiple of 30x on the FY24E EPS estimate of ₹ 106/-.
Disclaimer: "The views expressed are for information purposes only. The information provided herein should not be considered as investment advice or research recommendation. The users should rely on their own research and analysis and should consult their own investment advisors to determine the merit, risks, and suitability of the information provided."