Tanmay Gadre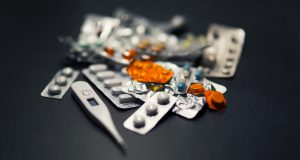 Update on the Indian Equity Market:
On Thursday, NIFTY ended at 17,606 (+0.8%) as it closed near the intraday high of 17,639. Among the sectoral indices, MEDIA (+1.7%), METAL (+1.2%), and FINANCIAL SERVICES (+1.2%) ended higher, whereas AUTO (-0.1%), and PSU BANK (-0.1%) were the losers. Among the stocks, ONGC (+3.6%), TATASTEEL (+2.0%), and INFY (+2.0%) led the gainers while MARUTI (-1.7%), IOC (-0.9%), and SHREECEM (-0.7%) led the losers.
Granules released its 3QFY22 results on 8th February. Following aren the excerpts of an interview with Mr. Krishna Prasad Chigurupati, Chairman and MD of Granules India (GRANULES) with CNBC TV18 on 9th February 2022:
The company has been operating at 60% of its production capacity for Paracetamol due to raw material shortages. It sells only APIs (active pharmaceutical ingredients) in India. All of its FDs (finished dosages) are sold in Europe and the US.
The company's FD segment is more profitable than its other segments. The share of FDs as a part of revenues fell by 3-4%. This fall is due to inventory rationalisation by its customers in US. The company states this as one of the reasons that the margins couldn't improve. The management sees some uptick in FD sales going forward.
Paracetamol's prices have been increased to pass on the raw material price increases to the customers.
The freight cost is an important component for the company and the costs haven't improved in the last 6 months. The freight costs can go as high as 4-5% of the company's revenues.
In FY23, the company will be crossing EBITDA margins of around 20-21%, but it is not confident of achieving the margins of 23%. The company expects to achieve a minimum of 12% growth in revenues by FY23 end.
The company received 3 ANDA approvals in the US in 3QFY22. The company expects the market size for their aggregate to be around USD 400-500 mn. The company doesn't expect any growth in revenues from these products.
The company plans to enter new geographical markets such as the Canadian, and South African markets. The company expects its new markets to account for 35-40% of its revenues, instead of 25-30% of total revenue as of now.
 Asset Multiplier Comments
The raw material prices for the company's molecules (core and non-core) and freight costs are likely to stay high for the next 2 quarters. Therefore, we expect the EBITDA margin to be under pressure during this period.
As the company's supplier for Paracetamol-related raw materials is about to start its plant by 15th Feb 2022, we expect the situation of raw material shortage to reduce from March.
Consensus Estimate: (Source: market screener website)
The closing price of GRANULES was ₹ 312/- as of 10-February-2022. It traded at 18x/13x/11x the consensus earnings estimates of ₹17/24.2/27.9 for FY22E/FY23E/FY24E respectively.
The consensus target price of ₹ 359 /- implies a P/E Multiple of 13x on FY24E EPS estimate of ₹ 27.9/-
Disclaimer: "The views expressed are for information purposes only. The information provided herein should not be considered as investment advice or research recommendation. The users should rely on their own research and analysis and should consult their own investment advisors to determine the merit, risks, and suitability of the information provided."