Tanmay Gadre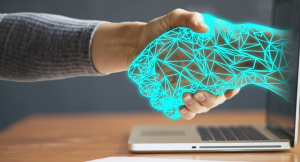 Update on the Indian Equity Market:
On Monday, NIFTY ended at 16,302 (-0.7 %) as it closed near the day's opening level of 16,228. Among the sectoral indices, IT (+0.1%), was the only gainer, whereas MEDIA (-2.7%), PSU BANK (-2.3%), and OIL&GAS (-2.1%) led the losers. Among the stocks, POWERGRID (+3.1%), HCL TECH (+3.1%), and INFY (+2%) led the gainers, while RELIANCE (-4.3%), NESTLEIND (-2.9%), and HEROMOTOCO (-2.8%) led the losers.
Excerpts of an interview with Mr. Shrikanth Chakkilam, CEO & Non-Executive Director of Cigniti Technologies (CIGNITITEC) with The Economic Times on 8th May 2022:
The company's 75% revenues come from five sectors: Banking, Financial Services and Insurance BFSI (20%), Travel and Hospitality TTH (16%), Retail and Ecommerce (15%), Healthcare and Life sciences HCLS (13%), and independent software vending ISV (12%). The management believes that these sectors support Cigniti's revenue growth and will continue to do so during the digital transformation in these sectors in the coming years.
Attrition in FY22 was at an all-time high of 30%. The revenue per employee in US dollar terms is USD 45,378. The current job market has become highly volatile and more complicated than usual.
The high attrition has increased the cost of hiring, and also the cost of training new employees, direct and indirect costs for advertising available positions, performing background checks, paying out referral bonuses, etc.
Intangible costs to the company include management's time spent reviewing resumes, making calls, and conducting interviews, as well as the time spent by dedicated recruiting staff and the HR department.
To deal with these challenges, the company is increasing freshers' hiring, increasing re-skilling programs through online learning, and ensuring engagement initiatives.
The plan is to become USD 500 mn company by 2026, effective from 2021. The company increased its investment in building capabilities, sales, marketing infrastructure, and investment in employee retention and rehiring. These investments reduced the company's margins which it expects to neutralize in FY23.
The company's 85% of revenues come from North America, yet Mr. Chakkilam believes that the dollar variation is not a concern. He considers inflation as a nominal worry which is constant across businesses.
The company's recently approved acquisition of Aparaa Digital (RoundSqr), a specialist in AI/ML, data, and blockchain engineering services would help strengthen its digital ambitions and help offer digital engineering services to its clients. The company is confident of retaining a high teen growth rate in FY23.
Asset Multiplier Comments
Though the management doesn't consider dollar variation a concern for the company, a strengthening dollar, and its adverse rate movements may hamper the earnings of the company.
We expect the margins to remain impacted in the medium term due to the sectoral headwinds.
The company may not be impacted by commodity inflation as it provides software services. But as the employees start coming back to offices, its transport and commuting costs will go up thereby increasing its other expenses, which will also end up impacting its margins.
Consensus Estimates:
The closing price of Cigniti was ₹ 412/- as of 09-May-2022. The consensus price target estimate for Cigniti's stock is unavailable. It traded at 17x the earnings of ₹ 33 for FY22.
Disclaimer: "The views expressed are for information purposes only. The information provided herein should not be considered as investment advice or research recommendation. The users should rely on their own research and analysis and should consult their own investment advisors to determine the merit, risks, and suitability of the information provided."