Rutuja Chavan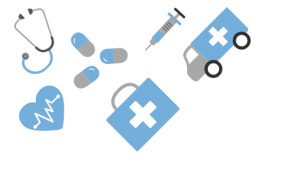 Update on the Indian Equity Market:
On Thursday, NIFTY settled 170 points lower at 17,639 (-0.9%). ADANIPORTS (-3.5%), TITAN (-3.3%), and HDFC (-2.8%) were the top losers. AXISBANK (+2.3%), DIVISLAB (+1.7%), and HINDUNILVR (+1.3%) were the gainers. Among the sectors, OIL&GAS (-2.2%), CONSUMER DURABLES (-1.7%), and METAL (-1.7%) led the losers HEALTHCARE INDEX (+0.6%), PHARMA (+0.4%), and REALTY (+0.03%) were the only gainers.
Excerpts of an interview with Mr. Om Manchanda, Managing Director, Dr Lal PathLabs. (LALPATHLAB) with CNBC-TV18 on 6th April 2022:
COVID cases have declined sharply over the last two months. LALPATHLAB's business is expected to remain focused on non-COVID. If this is the way things move, the entire industry will have to deal with the COVID base in the previous year's business.
LALPATHLAB is looking at multiple growth triggers, one of which is geographical expansion. They recently acquired a lab in Mumbai and are looking at expanding their footprint in the West zone. They are also expanding their organic footprint in South India.
The second growth trigger would be a hypothesis that wellness testing will tend to increase. Once things become stabilized, they will focus on wellness testing
Revenue per patient has been highly volatile in the last two years because the test mix has been different on a quarter-on-quarter basis. During the second wave, they saw COVID-alike tests going up so the revenue per patient was very high.
Pricing of COVID testing has been falling sharply. Initially, it was about Rs 4,000-4,500 and now it is hovering around an average of Rs 500-600 per test. This has impacted revenue per patient every quarter. LALPATHLAB's revenue per patient for non-COVID has been around Rs 700 for many years. As they have always been dependent on volume growth more than pricing growth, they expect revenues to stabilize around Rs 700 per patient if there is no covid business further.
They had a structured transaction where they were waiting for FY22 to get over. Now that it has ended, LALPATHLAB will get a little more aggressive in Direct-to-Consumer activities in Mumbai as well as the West zone.
As of now, the Suburban brand after the acquisition is to be kept separate and LALPATHLAB will continue to focus and leverage the Suburban franchise in Mumbai.
Companies in this space have found it difficult to grow organically in non-core markets. So many of the regional players have grown in their core markets for them to grow faster from here on especially on a higher base. One will have to resort to inorganic growth as there is no other option.
FY23 will be a crucial year for stabilization as the FY21 and FY22 numbers are not correct representatives of the numbers. The inorganic component of driving growth is expected to continue for large companies.
Competitive intensity has gone up in the last two years as many players have entered this space. Earlier there used to be traditional business models but now the market has evolved in multiple directions after the pandemic.
There are now aggregators, companies with full-stack offerings where they do pharmacy, diagnostics, and even hospitals have become aggressive on retail pathology. So overall, the competitive intensity has gone up in the last two years and how these companies perform financially remains to be seen since there has been a lot of air cover due to covid in the last two years.
How this all pans out in the first six months of FY23 remains to be seen.
Asset Multiplier Comments
We expect operating leverage to be one of the synergies created out of the suburban acquisition lab in Mumbai.
We expect LALPATHLAB's established brand identity in organized diagnostics to aid cost efficiencies and economies of scale.
We expect multiple growth levers such as the shift from unorganized to organized business, and volume growth in the non-COVID segment through organic and inorganic routes to aid revenue growth and improve margin trajectory.
Consensus Estimate: (Source: market screener websites)
The closing price of LALPATHLAB was ₹ 2,835 /- as of 07-April-2022. It traded at 59x/ 50x the consensus earnings estimate of ₹ 48/ 57- per share for FY23E/FY24E respectively.
The consensus target price of ₹ 3,090 /- implies a P/E Multiple of 54x on the FY24E EPS estimate of ₹ 57/-
Disclaimer: "The views expressed are for information purposes only. The information provided herein should not be considered as investment advice or research recommendation. The users hshould rely on their own research and analysis and should consult their own investment advisors to determine the merit, risks, and suitability of the information provided."