Week in a nutshell (9th May to 13th May)
Rujuta Tamhankar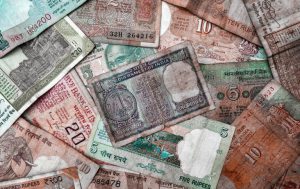 Technical talks
NIFTY opened the week on 9th May at 16,227 and closed on 13th May at 15,782. During the week, NIFTY was down 3.8%. The index has breached the 50-week moving average on the weekly chart with RSI at 37. The immediate support for the index stands at 15,515 and resistance at 16,230.
PSU Bank (-8.8%), Realty (-5.8%), and Infrastructure (-5.3%) were the top losers and there were no sectoral gainers during the week.
Weekly highlights
The Life Insurance Corporation of India (LIC) public issue got bids for Rs 439,335 mn on the final day of bidding on May 9, more than double the issue size. According to subscription data available on markets, the offer was subscribed 2.95 times, with investors bidding for 478.2 mn equity shares versus an IPO size of 162 mn shares. Policyholder participation remained strong, with bids totalling 6.12 times the authorised quota and the value of shares subscribed was Rs 120,340 mn. Retail investors put in Rs 124,560 mn in the IPO, the most among investors from May 4 to 9. Employees' reserved portion was subscribed 4.4 times.
Oil prices surged more than 5% on 11th May as Russian gas deliveries to Europe decreased and Russia sanctioned certain European gas businesses, adding to global energy market turmoil. On 13th May, Crude oil closed 4% higher at usd 110 and Brent crude oil closed 3.8% higher at usd 112.
According to the official data released on 11th May by the Labor Department of the US, the annual growth in the consumer price index (CPI) peaked in March at 8.5% but decreased in April to 8.3% due to lower energy expenses. After a 1.2% gain in March, the CPI rose only 0.3% in April, but excluding volatile food and energy commodities, the index increased 0.6%, double the rate in March, according to the study.
According to the data released on May 12, inflation for April in India was 7.77%, higher than the 7.5% consensus forecast driven by fuel items, with the CPI index for the 'fuel and light' group climbing 3.15% MoM in April. Higher-than-expected retail inflation in April has raised expectations of another repo rate hike at the Reserve Bank of India's (RBI) Monetary Policy Committee meeting on June 6-8.
According to data released on May 12 by the Ministry of Statistics and Programme Implementation, India's industrial growth, as per the Index of Industrial Production (IIP) increased to 1.9% in March from 1.5% in February.
America's employers' added 428,000 jobs in April, extending a streak of solid hiring that has defied punishing inflation, chronic supply shortages, the Russian war against Ukraine, and much higher borrowing costs. The unemployment rate was at 3.6%, just above the lowest level in a half-century. The economy's hiring has been remarkably consistent in the face of the worst inflation in four decades. Employers have added at least 400,000 jobs for 12 straight months.
Foreign institutional investors (FIIs) continued to be sellers, selling equities worth Rs 163,583 mn. Domestic institutional investors (DIIs) continued to be buyers and bought equities worth Rs 182,020 mn.
Things to watch out for next week
Volatility is expected to remain high as rising global inflation forces investors to reconsider their expectations for strong earnings growth. Fears of a further rise in the US 10-year bond yield, geopolitical concerns, and oil price volatility will keep investors on edge.
With the inflation data released, investors are looking forward to Fed's intended 50 bps interest rate hike in the next meeting. The United States housing market updates for April are expected on the 18th of May. Consumer Price Index (CPI) inflation for the Eurozone, the United Kingdom, and Canada will be released this week, indicating whether global inflation rates have peaked. We can also anticipate the release of the United States Census Bureau's report on retail sales for April, as well as earnings from some major retailers, such as Walmart and Target.
Disclaimer: "The views expressed are for information purposes only. The information provided herein should not be considered as investment advice or research recommendation. The users should rely on their own research and analysis and should consult their own investment advisors to determine the merit, risks, and suitability of the information provided."