This Week in a nutshell (06-10 June)
Pratik Mate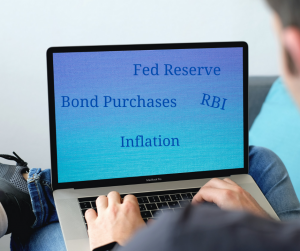 Technical talks
NIFTY opened the week on 06th June at 16,531 and closed on 10th June at 16,202. During the week, NIFTY was down 2.3%. The index has breached the 50-week moving average on the weekly chart with RSI at 43. The immediate support for the index stands at 15,845 and resistance at 16,793.
Financial Services (-3.0%), IT (-2.6%), and Media (-2.4%) were the top losers, and PSU (+1.0), and Auto (+1.0%) were the only sectoral gainers during the week.
Weekly highlights
US inflation accelerated to a fresh 40-year high in May, a sign that price pressures are becoming entrenched in the economy. That will likely push the Federal Reserve to extend an aggressive series of interest-rate hikes. The consumer price index increased 8.6% YoY resulting in all 3 broad-based US Indices ending in the red by 3%.
Despite a dip on Thursday, benchmark crude oil rates were near their 13-week highs. Brent and West Texas Intermediate futures traded above $120 a barrel each. High crude prices hurt markets such as India, which meets much of its oil demand through imports. Brent closed at $121/barrel.
Official data released last month showed India's official GDP growth reading hit a four-quarter low of 1 percent on a year-on-year basis in the January-March period. Economic growth for the full year ended March 2022 came in at 8.7 percent due to a low base of the previous year, though lower than the statistics office's estimate of 8.9 percent.
RBI Governor Shaktikanta Das on Wednesday announced the unanimous decision of the Monetary Policy Committee (MPC) to hike the repo rate — the key interest rate at which the central bank lends money to banks — by 50 basis points to 4.9 percent. The RBI MPC also decided to remain focused on withdrawing its 'accommodative' stance to ensure inflation stays within target levels while supporting growth.
The RBI MPC raised its forecast for retail inflation — gauged by the Consumer Price Index — by 100 basis points to 6.7 percent. The RBI Governor acknowledged that inflation has accelerated to a faster-than-estimated pace in April and May. It is expected to be higher than 6 percent by December 2022, mainly due to elevated food prices.
American employers added 390,000 jobs last month, the government reported Friday, a sign of a slowdown in hiring but still a better-than-expected result amid a shortage of workers. The jobless rate held steady at 3.6 percent for the third consecutive month, just a tenth of a point above the pre-pandemic level in February 2020, the Labor Department said.
A report showing stronger hiring last month than expected is good news for the US Economy amid worries about a possible recession. But many investors saw it keeping the Federal Reserve on its path to hiking interest rates aggressively, thereby causing weakness in US Equities, The US Federal Reserve is on track for half-point interest rate increases in June, and July, and last week's jobs report boosted expectations of continued tightening by the US central bank.
Shanghai and Beijing are placed on new COVID-19 alerts. The cities imposed further lockdown restrictions on Thursday and announced a fresh round of mass testing for millions of their residents. India too reported a total of 7,584 new coronavirus infections on Friday, prompting health authorities to a high alert on a possible resurgence of a 4th Wave
Foreign institutional investors (FIIs) continued to be sellers, selling equities worth Rs 126,629 Domestic institutional investors (DIIs) continued to be buyers and bought equities worth Rs 96,100 mn.
Things to watch out for next week
Volatility is expected to remain high as rising global inflation forces investors to reconsider their expectations for strong earnings growth. Fears of a further rise in Interest rates by Central Banks across the world, geopolitical concerns, and oil price volatility will keep investors on edge.
With the inflation data released, investors are looking forward to Fed's intended 50 bps interest rate hike in the next meeting. The United States housing market updates for May are expected next week. Consumer Price Index (CPI) inflation data will be released for key economies, indicating whether global inflation rates have peaked.
With Q4 earnings out of the way, stock-specific actions will be limited as indices would track macro developments and geopolitical developments.
Disclaimer: "The views expressed are for information purposes only. The information provided herein should not be considered as investment advice or research recommendation. The users should rely on their own research and analysis and should consult their own investment advisors to determine the merit, risks, and suitability of the information provided."