Richa Varu Rathod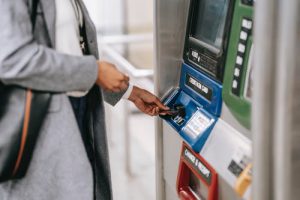 Update on the Indian Equity Market:
On Thursday, Nifty closed lower at 17,110 (-1%) in the highly volatile session after Federal Reserve in its policy outcome indicated interest rates hike soon.
PSU BANK (+5.1%), BANK (+0.7%), and MEDIA (+0.6%) were the top gainers and IT (-3.6%), CONSUMER DURABLES (-2.3%), and HEALTHCARE INDEX (-2.3%) were top losing sectors.
The top losers were HCLTECH (-3.9%), TECHM (-3.6%), and DRREDDY (-3.4%) while AXISBANK (+3.3%), SBIN (+2.8%) and CIPLA (+2.3%) were the top gainers.
 Expect NIMs to be in the range of 3.2-3.3% – Federal Bank
Edited excerpts of an interview with Mr. Shyam Srinivasan, Managing Director and Chief Executive Officer, Federal Bank with ETNow on 25th January 2022:
In 3QFY22, Federal Bank's advances grew by 4.5% QoQ and 12% YoY. 3QFY22 showed all-around improvement. The performance was broad-based which is an encouraging sign. Some businesses were driven by economic activity and the bank's gain in market share.
In 3QFY22:

Corporate business come back strongly, and
Retail, which has been trending well, gathered steam and kept its pace with the developments in the economy.

The overall numbers show credit growth and improvement in the quality of the book.
The credit quality of the Bank is normally in the top quartile and credit costs have been well managed across lengths of time because of disciplined lending.
In 3QFY22, Federal Bank recorded its best-ever net profit and ROA crossed 1%. It crossed the Rs 5,000 mn quarter mark in net profits. So, it has been a diversified, broad-based, and on-target performance.
Generally, Bank's performance is ahead of the industry by a multiple. As the economy picked up pace in 3QFY22, Federal Bank saw a good pick up and its market share gain amplified. The bank is witnessing organic, structural, and holistic growth and it is not one-off bolstering performance.
The bank is confident of continuing its momentum in 4QFY22E provided the economy is moderately affected by Coronavirus third wave.
The bank believes that green shoots in the economy should play through and if it does, the bank's market share gain will be even more pronounced.
Looking at the last two-three years of the incremental credit in the country, the bank's share is higher than its normal market share.
The bank is gathering momentum across and believes as things improve in the economy, its market share gain should be visible across the spectrum.
The credit cost of the bank has reached its bottom at 22 bps and there is no scope for further improvement. Mr. Srinivasan thinks that a normalized credit cost on an annualized basis of around 50-60 bps in a steady state would be a good place to be in. The bank always tries to maintain a balance between the kind of business momentum, and credit cost.
Recovery upgrade for 3QFY22 was strong and close to Rs 3,000 mn. Slippages in 3QFY22 were Rs 3,300 mn and almost matched the slippages of the 2QFY22. The incremental recovery upgrades are doing well, and collection efficiency is strong.
The CEO expects to see a pick up in capex in 2HCY22 as capacities are getting built-in.
Bank's share gain is visible as it doesn't have the baggage of any adverse credit and companies are beginning to look at borrowing opportunities. For a greater part of CY21 corporates had other borrowing opportunities to meet their credit requirements but those are turning out to be a little more expensive. So, banking and bank credit are looking more attractive and as that happens, Federal Bank is well-positioned to gain share.
Sequentially, the corporate book grew ~7% in 3QFY22. The bank is confident that this will repeat as its strengths, reach out programs and appetite remains strong. Bank thinks as capex picks up, the corporate book will grow even faster.
The Bank has been giving NIMs guidance to be in the range of 3.2% to 3.3%. The bank is presently at 3.27% levels and sees room for improvement of another 5 odd basis points.
NIMs are impacted by the mix of the book, frequency of credit growth, the quantum of credit growth, and reversals in slippages. Bank has successfully controlled all these variables and demonstrated NIMs expansion. Typically, in a rising interest rate scenario, NIMs tend to expand for banks.
Asset Multiplier Comments
We think the Bank's performance in terms of the advances growth, profitability, and asset quality has been strong.
We expect this momentum to continue considering the improving economic condition which will aid higher disbursements and better asset quality.
Consensus Estimate (Source: market screener website)
 The closing price of Federal Bank was ₹ 100/- as of 27-January-2022. It traded at 1.08x/0.98x/ 0.87x the consensus Book Value Per Share estimates of ₹ 88.4/ 98.1/ 110 for FY22E/FY23E/FY24E respectively.
The consensus target price of ₹ 118/- implies a PBVPS Multiple of 1.07x on FY24E BVPS estimate of ₹ 110/-.
Disclaimer: "The views expressed are for information purposes only. The information provided herein should not be considered as investment advice or research recommendation. The users should rely on their own research and analysis and should consult their own investment advisors to determine the merit, risks, and suitability of the information provided."