Have you heard about the Metaverse?
Rujuta Tamhankar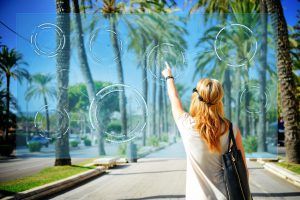 Have you heard that Facebook has changed its name to Meta and that Mark Zukerberg is betting the future of his company on a vision that will have us spend more time in the virtual world?
Well really, the metaverse uses different sets of technologies such as virtual reality (VR) and augmented reality (AR) to allow people to have real-time interactions and immersive experiences across distances. It's expected to be a space wherein our digital world and the physical world converge.  The provider companies will be looking forward to providing experiences to users such as virtual concerts, theme parks, casinos, sports arenas, shopping centers, etc. There are several games such as Decentral, Roblox, Minecraft, etc. that have their own metaverse worlds equipped with their own avatars, interactions, and currency. The gaming industry allows users to pay real currency for virtual currency which can buy you lands, farms, and businesses to progress faster in the game.
The 'metaverse' has essentially amplified this concept wherein you can build, trade, and make money using NFTs via cryptocurrency. Virtual goods can be turned into NFTs and stored on metaverse platforms as assets. Metaverse users can then trade these NFTs for cryptocurrency or choose to cash out.  Now, you would be wondering what are these NFTs. NFT is a nonfungible token associated with a digital or physical asset and stored on blockchain technologies such as cryptocurrencies such as bitcoin, or Ethereum. These can be sold or traded.
For example, 'Decentraland' is a 3D virtual world browser-based platform where users buy virtual plots of land as NFTs via the MANA cryptocurrency, which uses the Ethereum blockchain.
These platforms are targeted toward the tech-savvy younger audience (15-30-year-olds) wherein the audiences are expected to be present in a Meta world for businesses such as work meets or for fun activities such as concerts. The experience would be similar to consumers visiting physical stores to purchase goods. Metaverse could facilitate hybrid work meetings or training programs spanning multiple locations.  Several brands are beginning to experiment with the metaverse. Nike is looking to connect with younger generations through a gaming and virtual reality experience and has launched Nikeland, a virtual world made in partnership with Roblox. By early 2022, nearly seven million people had visited Nikeland.
What are the big tech companies such as Meta (earlier Facebook), Google, and Microsoft doing with metaverse?
Meta, in December 2021 announced that it plans to invest USD 10 bn into metaverse platforms and that money will be going towards connecting people via this new digital experience.
Microsoft announced in January 2022, that it would be acquiring Activision Blizzard, an enormous video game developer, and publisher for USD 68.7 bn. Google has invested about USD 39.5 mn in a private equity fund for all metaverse projects for utilizing augmented reality and making services like Maps and YouTube into the virtual landscape.
Tech Mahindra announced the launch of the first-of-its-kind 'Meta Village', a digital twin of Paragon in Maharashtra to gamify learning on the Roblox platform. Strengthening its commitment to the 'Make in India' initiative, Tech Mahindra initiated its launch of the Meta Village to drive innovation in the education sector at the grassroots level. The Meta Village will ensure that the students play on Roblox to learn the basics of computers and coding in Bharat Markup Language (BHAML), a platform built by Markers lab that enables anyone to code in their native language.
How will it affect companies?
Metaverse is an immersive experience that holds potential for innovation in branding, marketing, and commerce. Metaverse creates opportunities for companies to reach out to consumers in a more engaging manner. Brands would have to create their presence in the metaverse with 3D representations of their products, for example, a 'try on virtual clothing' option for a clothing brand.
What do these new developments mean for investors like us?
Investors can invest in businesses involved in immersive hardware, semiconductors, interactive platforms, connectivity, and other potential layers that comprise the metaverse universe. Patience is essential to realize meaningful returns on metaverse investments, which may take a decade or more to develop.
Disclaimer: "The views expressed are for information purposes only. The information provided herein should not be considered as investment advice or research recommendation. The users should rely on their own research and analysis and should consult their own investment advisors to determine the merit, risks, and suitability of the information provided."