Expect helicopter orders worth Rs 600 bn – Hindustan Aeronautics
Rujuta Tamhankar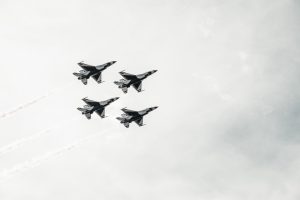 Update on the Indian Equity Market:
On Wednesday, NIFTY closed in the red at 16,342 (-0.5%). BHRATIARTL (-3.9%), ITC (-2.2%), and RELIANCE (-1.8%) led the losers while TATASTEEL (+1.7%), SBIN (-1.6%), and TITAN (-1.4%) led the gainers. Among the sectoral indices, REALTY (+2%), MEDIA (+1.4%), and PSU BANK (+0.7%) led the gainers, while OIL &GAS (-1.1%), FMCG (-1.0%), and CONSUMER DURABLES (-0.6%) were the only losers.
Excerpts of an interview with Mr. R Madhavan, Chairman and Managing Director at Hindustan Aeronautics (HAL) with BQ Prime on 8th June 2022: 
HAL anticipates revenue to increase by 6-7% in FY23. Revenue is expected to increase by double digits in FY24 and will continue to grow in FY25.
The company's order book stands at Rs 820 bn, of which Rs 200 bn is for a repair and spare parts order and Rs 615 bn is for production for Light Combat Helicopters (LCH) to be delivered in 2024.
HAL is expecting orders worth Rs 600 bn for helicopters and basic trainers. These orders, coupled with other engine orders, will increase the company's book-to-bill ratio from three to five times.
Due to the longer cycle time for the ministry's order placing, the company must begin production or the helicopter manufacturing facilities would be underutilized. The company hopes to have a capacity of more than 90 to 100 helicopters every year. The order book is also required to be in that range so that the capacities that they have established are adequately utilized.
Management thinks that India should take advantage of the current geopolitical environment since countries are not favoring China and Russia for their respective source and support systems and platforms. Management sees this as an opportunity as India is capable of supporting Russia's systems. Furthermore, Indian equipment is easier and less expensive to maintain than western competitors.
HAL is hoping to increase export orders as the Indian Ocean Commission area and West Asia gains traction.
The Tumkur facility will be inaugurated in July 2022, with an initial capacity of 30 helicopters, in addition to the present capacity of 30 helicopters. In phase 2, this capacity would be increased to 60-70 helicopters.
There is excess capacity for fixed-wing aircraft, with the Hindustan Turbo Trainer (HTT-40) trainer aircraft, as well as the Light Combat Aircraft (LCA) Mark-1A and LCA Mark-2, scheduled for production.
There hasn't been much movement from large corporates in India's defense industry, but the MSME sector has forayed into defense manufacturing, particularly in the avionics and accessories segment.
The Company anticipates some push from larger corporates, which is currently lacking, towards indigenous development of platforms and equipment.
Asset Multiplier Comments
Due to outstanding helicopter orders, HAL's order book is likely to reach Rs 1,000 bn in CY22E/ FY23E, and the book-to-bill ratio is expected to rise from 3x to 5x.
We anticipate HAL will be able to meet its double-digit revenue growth projections starting in FY25E, as key projects like the LCA Tejas Mark-1A and LCH helicopter orders are scheduled to be completed in 2024.
As military threats have grown across the world, the demand for defense equipment has increased. HAL's addressable market is likely to grow as the firm seeks to diversify its activities by increasing its foreign exposure.
Consensus Estimates: (Source: tikr website)
The closing price of Hindustan Aeronautics Ltd was ₹ 1,842/- as of 08-June-2022.  It traded at 15x/ 14x the consensus earnings estimate of ₹ 124.1 / 134.5/- for FY23E/FY24E respectively.
The consensus target price of ₹ 2,025/- implies a P/E Multiple of 15x on the FY24E EPS estimate of ₹ 134.5/-.
Disclaimer: "The views expressed are for information purposes only. The information provided herein should not be considered as investment advice or research recommendation. The users should rely on their own research and analysis and should consult their own investment advisors to determine the merit, risks, and suitability of the information provided."