This Week in a Nutshell (May 30 to June 3)
Pranav Mahajan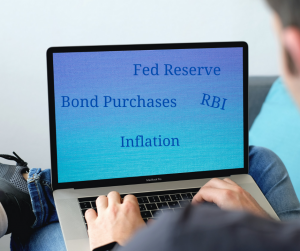 Technical talks
NIFTY opened the week on 30th May at 16,527. After trading in a range of 350+ points, it finally ended with a gain of 1.4% and closed at 16,584. It closed just below the 50-week exponential moving average. With the weekly RSI at 46, the next support and resistance levels for the index would be 16,400 and 16,970 respectively.
Among the sectoral indices, REALTY (+4.9%), IT (+4.4%) and OIL & GAS (+3.9%) were the top gainers whereas, HEALTHCARE (-2.5%), PHARMA (-2%) and BANK (-1%) lost the most.
Weekly highlights
The US market had a 4 day trading week, as Monday was a holiday on account of The Memorial day. The major US indices had a sideways movement with a minor loss for the week.
The WTI Crude traded in a strict range of USD 111-120 per barrel. Same was the case with Brent which ended at USD 121 per barrel on Friday.
We know, like us, you are also suffering from frequent power cuts. The states and the centre continue to fight over whether to import the 5 times costlier coal in addition to using our domestic capacity. But why does India, the second-biggest coal producer import coal? Here's a quick trivia. The calorific value, i.e., the heat produced by burning the Indian coal is only around 60% of the coal imported from Australia or America. Burning Indian coal also results in more pollution. And it's just the way it is. Nature didn't favor us with good coal!
The National Statistics Office on Tuesday released the Jan-March 2022 GDP figure. The 4.1% GDP growth couldn't meet the NSO's and RBI's estimates. It also slowed sequentially for the third straight quarter. 20.9%, 8.5%, 5.4%, and 4.1% was the trajectory of the quarterly GDP growth with full-year FY22 growing at 8.7%.
The start of each month brings out two crucial data points; Monthly GST collection and Automobile sales numbers. The GST collection of ₹1.41 tn in May is 16% lower than the record high collection in April which was ₹1.68 tn. The collection in May pertains to the sales occurred in April. And yes, it is an anomaly, May collections are always lower than that of April.
Coming to the number of vehicles auto manufacturers sell to the auto dealers. Broadly speaking, the percentage growth was flattish to negative compared to the previous month across all segments as companies continue to face supply chain issues, a surge in raw material prices, and semiconductor shortages.
Amazon along with a group of investors are in talks with Vodafone Idea to invest up to ₹ 200 bn. Only time will tell if Amazon through Voda-Idea succeeds at giving a tough time to Jio in this concentrated three-player telecom market.
The foreign institutional investors (FII) net sold equities worth ₹ 66,539mn and domestic institutional investors (DII) were net buyers in equities with buying shares worth ₹ 68,448mn.
Things to watch out for next week
The RBI's monetary policy committee commences its bi-monthly meeting on Monday and will conclude it on Tuesday. The MPC decides whether to increase interest rates or not. This time, the market consensus suggests that it is a question of how much will they be raised and not about raising or not. The committee's stance and future outlook will also be a key factor to watch out for.
World over, the markets are convinced that Central banks have no other option than to raise interest rates to curb the surging inflation.
With the Mar-22 earnings season over, the focus will shift to how monsoon season plays out in India. A normal monsoon would boost demand for consumer goods, and automobiles (cars and farm equipment) and aid recovery in rural India.
Disclaimer: "The views expressed are for information purposes only. The information provided herein should not be considered as investment advice or research recommendation. The users should rely on their own research and analysis and should consult their own investment advisors to determine the merit, risks, and suitability of the information provided."