Pratik Mate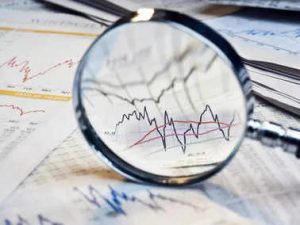 Technical talks
NIFTY opened the week at 17,183 on 18th April. The index closed 1.7% lower at 17,172 on 22nd April. RSI (14) of 47 and MACD are trending upwards. On the upside, the 17,465 could act as resistance while 16,965 could act as support.
Auto (+3.1%) was the only sectoral gainer in the week. IT (-5.6%), Financial Services (-4.3%), and Media (-4.2%) led the laggards.
Weekly highlights
The US indices closed the week lower as the market priced in persistent inflation and US Fed's imminent 50 bps interest rate hike. S&P 500 was down by 2.6%, Nasdaq 100 by 3.7%, and Dow Jones was down by 1.7%.
Q4 result season continues to be in the fray as various Nifty 50 companies reported results, increasing input costs, supply, and logistical challenges and margin pressures continue to be a persistent challenge across the board.
Data from the National Bureau of Statistics showed on Monday that China's economy slowed in March as consumption, real estate, and exports were hit hard, taking the shine off faster-than-expected first-quarter growth numbers and worsening an outlook already weakened by COVID-19 curbs and the Ukraine war. Gross domestic product (GDP) expanded by 4.8 percent in the first quarter from a year earlier.
The International Monetary Fund (IMF) has cut its growth forecast for India for FY23 by 80 basis points to 8.2 percent, warning that Russia's invasion of Ukraine would hurt consumption and hence, growth, by way of higher prices reflecting in part weaker domestic demand – as higher oil prices are expected to weigh on private consumption and investment – and drag from lower net exports.
The blockades by groups in Southern and Eastern Libya citing political demands have caused National Oil Corporation to declare force majeure on output from several major fields and ports in recent days. Libya is currently losing more than 550,000 barrels per day in oil production from blockades on major fields and export terminals, creating supply challenges in an already affected market due to the Russia-Ukraine conflict.
The number of Americans filing new claims for unemployment benefits fell moderately last week, still suggesting that April was another month of strong job growth. The report from the Labor Department on Thursday also showed unemployment rolls shrinking to the lowest level in 52 years in the first week of April, reinforcing the tightening labor market conditions. An acute shortage of workers is keeping layoffs low, helping to fuel inflation, and forcing the Federal Reserve to adopt a restrictive monetary policy stance.
Federal Reserve Chair Jerome Powell stated that a 50 bps interest rate hike is imminent when the Fed meets next on May 3rd. The Fed is expected to be aggressive in its actions going ahead as inflation in the US is running roughly three times the Fed's 2% target.
Wholesale inflation in India – measured by the Wholesale Price Index (WPI) — worsened to 14.55 percent in March from 13.11 percent in the previous month, data released on Monday showed. WPI for March was the highest in four months indicating worsening inflationary challenges.
FII (Foreign Institutional Investors) continued to be sellers this week and sold shares worth Rs 1,84,433 mn while DII (Domestic Institutional Investors) continued to be buyers and bought shares worth Rs 1,43,943
Things to watch out for next week
Continuing with the Q4 results season, management commentary about demand slowdown, and cost inflation would be key things investors would be concerned with.
Rising Covid-19 Cases in Shanghai, China, and subsequent lockdowns will be on investors' minds as fears of a Chinese slowdown have been impacting the securities markets over the past 2 weeks.
Disclaimer: "The views expressed are for information purposes only. The information provided herein should not be considered as investment advice or research recommendation. The users should rely on their own research and analysis and should consult their own investment advisors to determine the merit, risks, and suitability of the information provided."