Revenue growth expected to pick up in FY24-25E  – Hindustan Aeronautics
Rujuta Tamhankar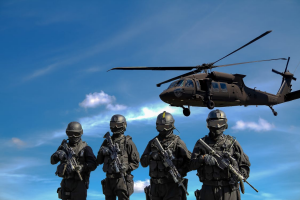 Update on the Indian Equity Market:
On Wednesday, NIFTY settled 150 points lower at 17,807 (-0.8%). HDFCBANK (-3.6%), HDFC (-3.3%), and HDFCLIFE (-2.4%) were the top losers. COALINDIA (+3.1%), NTPC (2.6%), and TATASTEEL (+1.9%) were the gainers. Among the sectors, IT (-1.6%), FINANCIAL SERVICES(-1.6%), and PRIVATE BANK (-1.3%) led the losers. PSU BANK (+2.0%), METAL (+1.4%), and OIL&GAS (+1.0%) led the gainers.
Excerpts of an interview with Mr. R Madhavan, Chairman, and Managing Director, Hindustan Aeronautics (HAL) with CNBC-TV18 on 5th April 2022:
The company recorded peak revenues of Rs 240,000 mn in FY22.
The projects currently undertaken will fructify only in FY24E and FY25E. Hence the company expects moderate growth of 6-7% for FY23E mostly through the repairs and overhauling (ROH) route. Beyond that the company expects revenue growth to be 9%, and 12% for FY24E and FY25E respectively because of new projects coming in place.
All the projects which include Light Combat Aircraft (LCA) Tejas, helicopters (Light Utility Helicopters (LUH) and Light Combat Helicopters (LCH)), and the Hindustan Turbo Trainer-40 (HTT-40) are indigenous. The IP (Integrity pact) for helicopters lies with the company (HAL) while the IP for LCAs lies with the DRDO.
The company received two new orders from the Ministry of Defense for a consideration of Rs 38,870 mn.
 The company is looking at various options for fundraising, as it wants to move away from the current product profile that they have. It is looking at Boeing, Civil MRO (maintenance), and Passenger to Freight conversion business. The company is also looking at partnerships for the design and development of engines for helicopters.
Safran Aircraft's partnership is for the engines. The company expects to secure a financial partnership with a private player for their 10-12 tonne helicopters for the design, development, and manufacture of helicopters.
HAL expects the order book by the end of FY22 to be more than Rs 1,000 bn. Helicopter orders expected by the company are for 200 LUH, 140 LCH, and an order for 70 HTT-40 turbo trainers for approximately Rs. 70,000 to 80,000 mn.
Asset Multiplier Comments
HAL's marquee projects, such as the LCA Tejas and LCA and LUH helicopters, are slated to play a key part in India's transition to Atma Nirbhar Bharat for defense. The company also intends to make significant strides in the International market with LCA Tejas and their other products.
We believe that their order book of Rs 792,290 mn as of 3QFY22 and the expected order book visibility as stated by the company reiterates the revenue expansion story. Moreover, HAL's focus on indigenization of components, systems, and accessories is expected to result in cost savings supporting the margins and profit.
Consensus Estimate: (Source: investing and tickr websites)
The closing price of HAL was ₹ 1,550/- as of 6-April-2022. It traded at 14x/ 12x the consensus earnings estimate of ₹ 109/ 126/- per share for FY23E/FY24E respectively.
The consensus target price of ₹ 1,824/- implies a P/E Multiple of 15x on the FY24E EPS estimate of ₹ 126/-
Disclaimer: "The views expressed are for information purposes only. The information provided herein should not be considered as investment advice or research recommendation. The users hshould rely on their own research and analysis and should consult their own investment advisors to determine the merit, risks, and suitability of the information provided."